5 feet tall yucca plants!
$75
The yucca plant is an evergreen shrub that does not shed its leaves each year and abundantly grow in southeastern United States. It grows in dry, sandy or rocky habitats and in fields, road shoulders, open woods and nursery beds. Leaves of the yucca are usually pointed, stiff, and narrow, with saw like or fibrous edges.
4 feet tall yucca
$49.95
24 inches or taller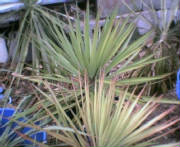 $25.95
The leaves are basal; that is, they all originate from one point, taking the form of a rosette. Leaves terminate in sharp spines. Stem is present in the form underground rhizome
Yucca plants have bell-shaped, white, cream-color, or whitish-green flowers. These flowers grow on inflorescence, which springs up from the center of a leaf-cluster. There are several flowers presents on an inflorescence.
2 t0 3 feet, good stock