Home, Garden, Patio, Office, Windows.

Live Aloe plants, medicinal qualities that are so very vital in our daily lives.

Free! Or as near to it as one can get! I have been sharing them over 5 years.

We all love having this absolutely astounding natural wonder growing in our homes.

SHIPPING/HANDLING
$5.00
Carrier: USPS w/tracking #
Complete Planting Instructions
Also Included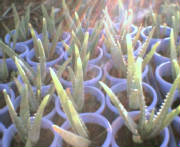 ALOE SEEDS
Aloe ferox is a lovely succulent with medicinal properties. It is native to South Africa. These aloe plants will be 3 feet tall in maturity. The leaves are a light green. They may also have a reddish or bluish tinge. Flowering occurs in spring or autumn. The blooms are candelabra of tubular orange or red. The flower may have 5-10 branches and the individual flowers are densely packed in thick clusters on the stalks. This beautiful aloe forms a display and attracts many bird species. It is an excellent garden specimen plant and is adaptable to many conditions. The gel-like flesh from the inside of the leaves is used in cosmetic products and is reported to have wound healing properties.
10 ALOE FEROX SEEDS-$3 20 ALOE FEROX SEEDS-$5 50 ALOE FEROX SEEDS-$10 250 ALOE FEROX SEEDS-$30